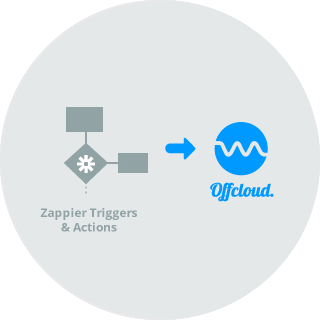 Offcloud and Zapier.
Offcloud uses Zapier to create automated triggers and actions.
Learn how to use Offcloud
Offcloud integrates with Zapier to make it even more convenient and efficient for Offcloud users to connect with different websites and apps and automate tasks.
Zapier allows users to build Zaps, which the company describes as a blueprint for a task you want to do over and over. Zaps are basically composed of two parts: a trigger and an action. Users can mix and match triggers and actions to automate their tasks.
When they're integrated with Offcloud, Zaps are simple to set up and lightweight. The best part about this integration is the fact that Zapier regularly checks your trigger for new data and tells Offcloud to perform the desired actions. In essence, this provides users with a powerful automation setup that syncs with the cloud.
You can automatically download content with Zapier and Offcloud for FREE. With a free account, you can submit up to 3 links. Then, you can enjoy the service without any restrictions for just $9.99.