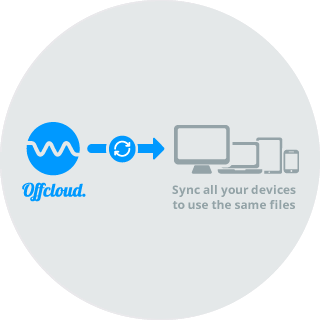 All your devices synced
Offcloud's native support for direct uploads to cloud storage solutions enables you to synchronize all your devices with your latest downloads.
Nowadays, nearly everyone has two or more mobile devices, as well as a laptop and perhaps a desktop computer. To stay productive, it's essential that all these devices have access to the same set of files.
Cloud storage services, like Amazon Cloud Drive, Google Drive or Dropdox are the first step in syncing your data across all devices. But that's rarely enough.
Offcloud's remote capabilities empower you to send your desired downloads directly to these cloud storage services, without the need to download them to your computer.
Thanks to Offcloud, you no longer need to download data to your computer before uploading it to a cloud storage service. This saves you time and enables you to have your downloads available on all of your devices.
Offcloud does this by sending your downloads directly to your cloud storage, like Google Drive, and allowing you to concentrate on what's most important to you.
You can connect your cloud storage devices to Offcloud in a few simple steps. Go to the settings page and click on Add New Account under the Remote Accounts tab. Once you're there, you just need to fill your cloud storage details and it's all ready to use.
You can remotely upload content from the web to your cloud storage for FREE. With a free acount, you can submit up to 3 links. Then, you can enjoy the service without any restrictions for just $9.99.